This course is FREE for those in receipt of free school meals.
Next courses running weeks commencing 5th April and 12th April 2021.
Applebees Fitness, COACH, Channel Adventure and The Weir Cafe are delighted to have received government funding to deliver a holiday activity programme during the Easter Holidays. Taking place in and around French Weir Park, this will combine exciting outdoor activities with learning about food nutrition and preparation.
We will be running separate morning and afternoon sessions for both weeks of the Easter holidays (weeks of 5th April and 12th April 2021)
Activities
Outdoor Education is a great medium to not only support children's physical and mental health but also to develop their personal and social skills developing their self esteem and self worth. The timetable below gives an idea of some of the activities on offer, these will vary depending on age of participants, numbers, weather conditions and river levels but planned activities include Icebreakers / challenges, Wide games/ frisbee, land based Outdoor Activities, fitness sessions, water based outdoor activities, rowing fitness, food nutrition, team challenges to include food preparation. Each participant will be provided with a free meal each day as part of the course.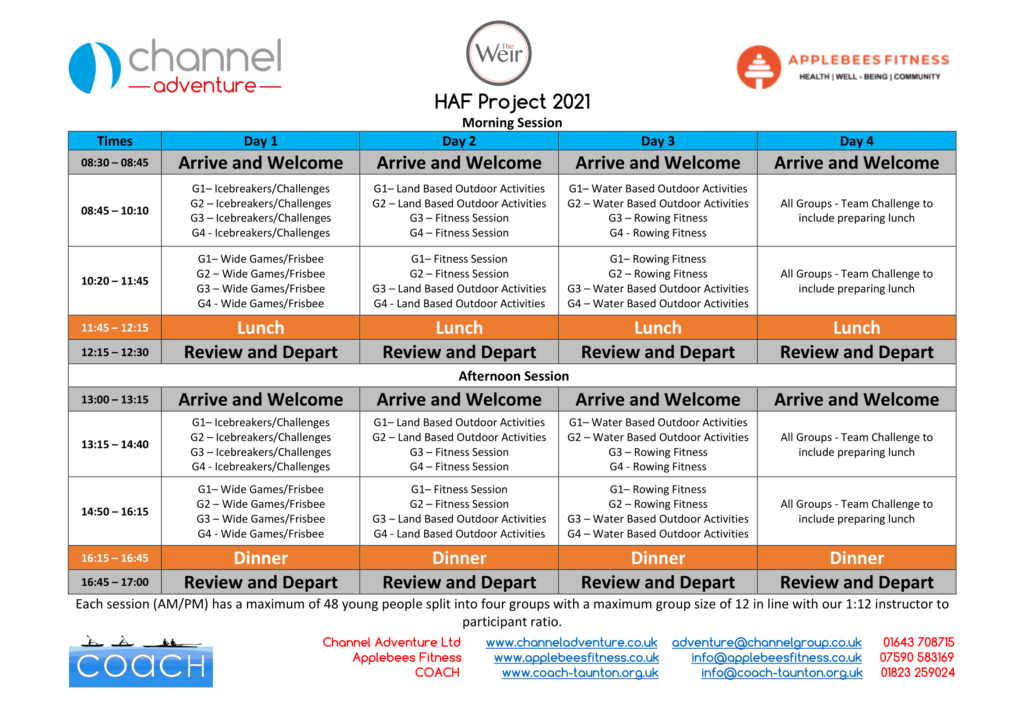 Ages
The course is suitable for those aged 8-16. We will aim to group ages appropriately but this will depend on the ages of those who book.
Dates and Times
Courses will take place during the weeks of 5th April and 12th April. We are running two sessions per day from Monday-Thursday. These are 8:30am-12:30pm and 1pm-5pm.
Cost
This funding has been made available by the Department for Education to enable local groups to provide holiday activities including food to children eligible for free school meals in Somerset. This is part of the Government programme which has provided healthy food and enriching activities to disadvantaged children since 2018 and is now being expanded across the whole of England. School holidays can be pressure points for some families because of increased costs (such as food and childcare) and reduced incomes.
If you are in receipt of free school meals you can book this course free of charge. If you are not you are very welcome to book and the price is £99 for a block of 4 sessions (either morning or afternoon on either week). Funding is provided for one week of morning or afternoon sessions. If you wish to do more this is absolutely possible but would be charged at £99.
Safeguarding
Activities will be led by fully qualified instructors from Applebees Fitness and Channel Adventure. Appropriate safeguarding policies and procedures are in place which can be seen in our waivers upon booking. All staff have relevant first aid qualifications and a DBS check where required. We operate a staff to child ratio of 1:12
In order to you or someone else to collect your child we will ask you to provide a password to ensure we know who is responsible for which child. Please do not share this with anyone else unless they are picking your child up on your behalf.
Covid procedures
We will ensure we follow the latest government guidance relating to covid and activities for young people. COACH is a covid secure venue with regular cleaning taking place. Full details will be provided in the waiver upon booking. The nature of the activities and the age of the children attending means that social distancing cannot be guaranteed but we will maintain this as far as is reasonably possible.
Meeting point and parking
We will meet at the front of COACH, French Weir Park, TA1 1XQ, look out for the flags! You can park in Elm Parade, Wood Street or Enfield Car Parks. you can also park at tesco on Castle Street. Until your child has registered they are still your responsibility so if you wish for them to walk independently to the meeting point please ensure they know to register as soon as they arrive.
Medical Conditions
You will be asked to inform us of any medical information we need to be aware of on the booking form. If your child requires any medication to be taken during the time they are with us please ensure it is clearly labelled and inform a member of staff on arrival.
What to bring
Food will be provided but please ensure your child brings the following:
– water bottle and drink (they will be able to refill water bottles if required)
– Snacks if your child is likely to want any
– Old trainers that you are happy to get wet
– Towel
– Please wear fitness / PE type clothing
– ensure your child is dressed appropriately for the weather eg warm coat, jumper, suncream if hot.
Bookings
Questions
If you have any questions please just drop us an e mail and we'll be happy to help